Workshops and Events
Change is the end result of all true learning.
Workshop:

Maintaining Personal Resilience Through Change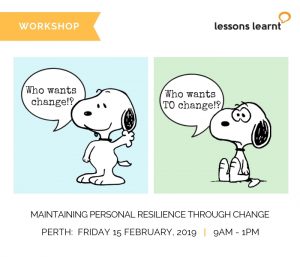 We define resilience as your ability to bounce through the opportunities and challenges presented in our personal lives, careers and relationships. Your resilience will directly affect your productivity, focus, energy and satisfaction. It is both an innate and learnt skill that can make such a difference in your ability to contribute to this world.
Understand the nature of, need for, and context of resilience.
Identify the signs of reducing resilience in yourself and other people in your world.
Apply the HOPE model to your own wellbeing and resilience strategies.
Develop strategies to increase personal and workplace resilience.
This program has been described as a game changer by many of the participants who have attended since we have been conducting it over the last five years.
Who should attend?
The program is ideally suited to Senior Managers, Team Leaders, Team Members,
Human Resource Managers, and Workplace Health and Safety Executives.
Costs
$330 per attendee (inc. GST)
Dates
Perth:        Friday, 15 February 2019
Venue
Rydges, Perth CBD.
---
THE BIG COMMUNITY MUSTER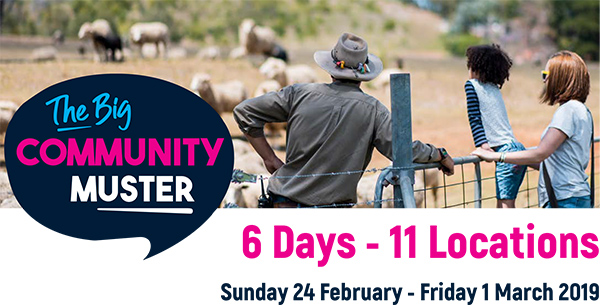 Dennis Hoiberg will be touring with The Big Community Muster – spreading his message of HOPE and resilience strategies. This event will be at 11 different locations across 6 days and provides the opportunity for our farming community to share experiences and discuss ways to build on their resilience.
| | | |
| --- | --- | --- |
| OAKLANDS | Oaklands RSL Club Sun 24 Feb | 5.00pm  – 7.30pm |
| DENILIQUIN | Deniliquin RSL Club Mon 25 Feb | 11.30am  – 2.00pm |
| HAY | Hay Services Club Mon 25 Feb | 5.00pm – 7.30pm |
| CONDOBOLIN | Condobolin RSL Club Tues 26 Feb | 11.30am – 2.00pm |
| NYNGAN | Nyngan RSL Club Tues 26 Feb | 5.00pm – 7.30pm |
| MOREE | Moree Services Club Wed 27 Feb | 11.30am – 2.00pm |
| WALGETT | Walgett Sporting Club Wed 27 Feb | 5.00pm – 7.30pm |
| NARRABRI | Narrabri RSL Club Thur 28 Feb | 11.30am – 2.00pm |
| GUNNEDAH | Services & Bowling Club Thur 28 Feb | 5.00pm – 7.30pm |
| TAMWORTH | Frog & Toad Function Centre Fri 1 March | 11.30am  – 2.00pm |
| SCONE | Scone RSL Club Fri 1 March | 5.00pm – 7.30pm |
For more info or to register your attendance click HERE.

---
Retreat:

Pathways to Purpose
Pathways to Purpose is Lessons Learnt Consulting's personal and professional development retreat for groups and individuals. It is held every year in the beautiful Villa Boreh Resort and Spa in North Bali for 6 days and 7 nights.  In 2019 we will be adding three more retreats (2nights/3 days) to the calendar and bring them to Australia. We listened to our community and decided to bring the popular event closer to home – giving us a chance to support our local communities.
Complete details Here.
Dates and Locations:
Albury Wodonga: – 12-14 April 2019
Byron Bay: 12 – 14 July 2019
Rockhampton: 6-8 September 2019
Bali: 20-26 October 2019